It was a Vaughan Thanksgiving this year, and everyone came to Denver!  My parents were (still!) here, having spent their time since Halloween either vising with us, watching my older sister's children, or traveling around Colorado, Utah, and Arizona.  My younger sister and her family flew to Colorado and stayed with us for about 4 days…which meant that for four days, we had 12 people sleeping in this house!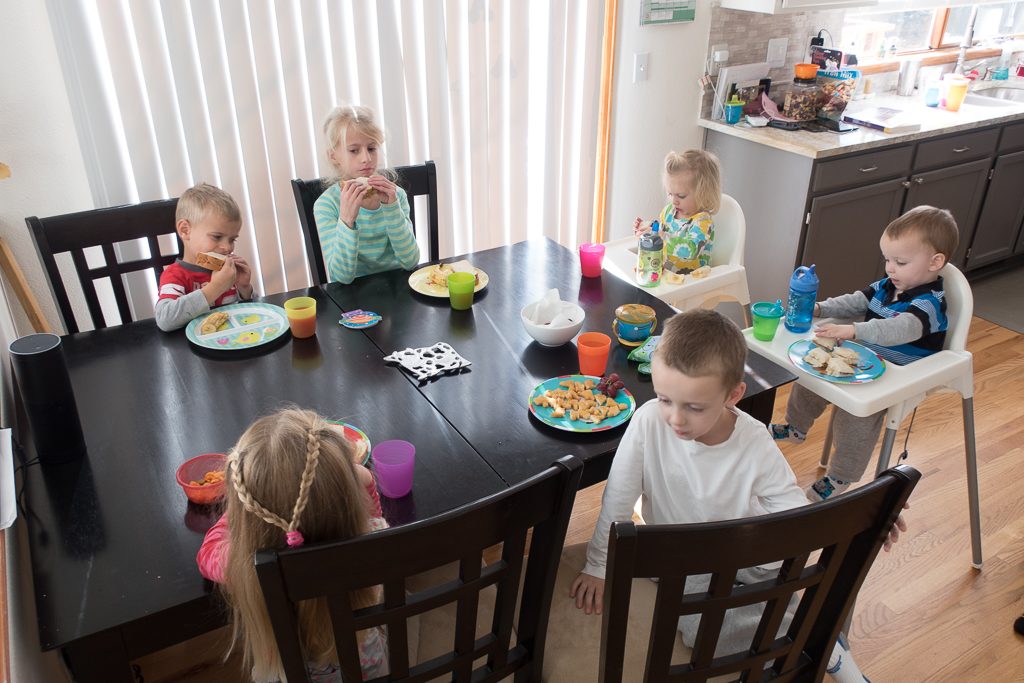 We had a lot of fun with my sister and her family — I'll make separate posts about one of our  hikes, and a trip to the new local park — but mostly I wanted to write about the Thanksgiving holiday itself.
My older sister hosted the actual meal, and this year we decided to have a lunchtime (noonish) Thanksgiving in an attempt to accommodate the two littlest kids.  We drove down to Denver at around 10:30am…Austin immediately found the shrimp and cheese trays and made himself comfortable. wink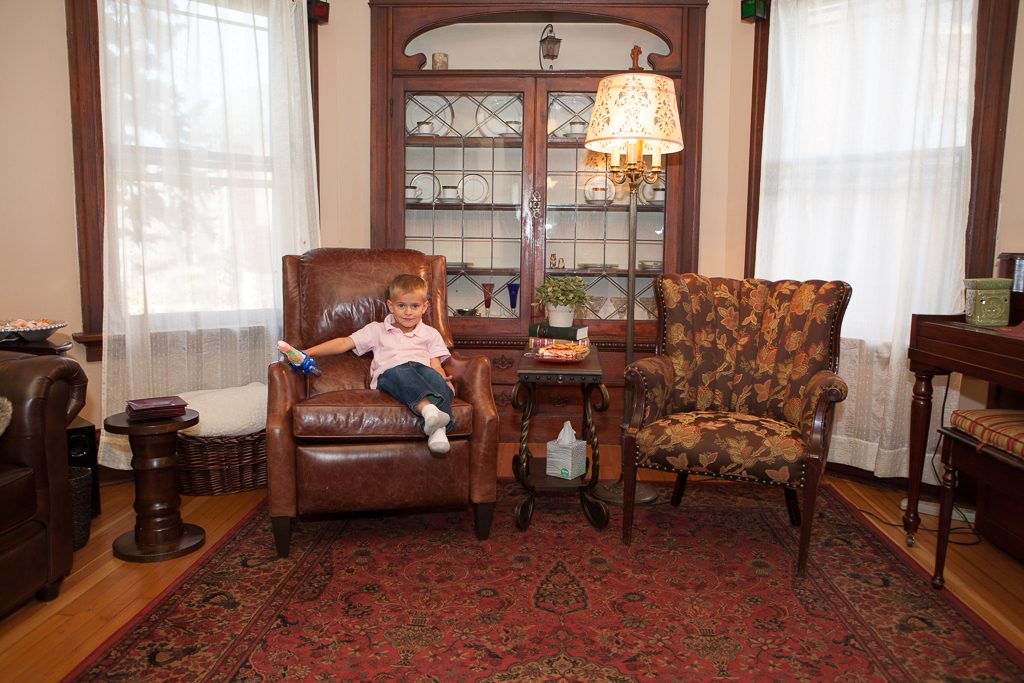 Addison discovered a tray of vegetables and a bowl of french onion dip, and immediately realized that carrots make excellent spoons for delivering sour cream to her mouth.  I got her a plate to mitigate the double-dipping.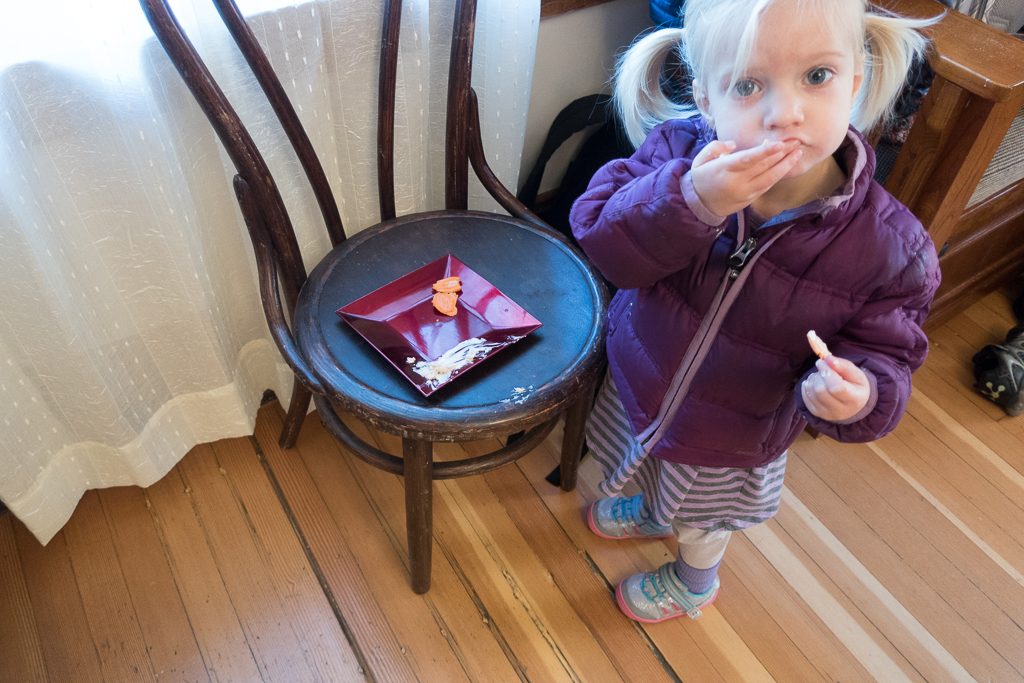 Addy was actually tired before lunch, but there was a lot of action, so she kept it together for the most part.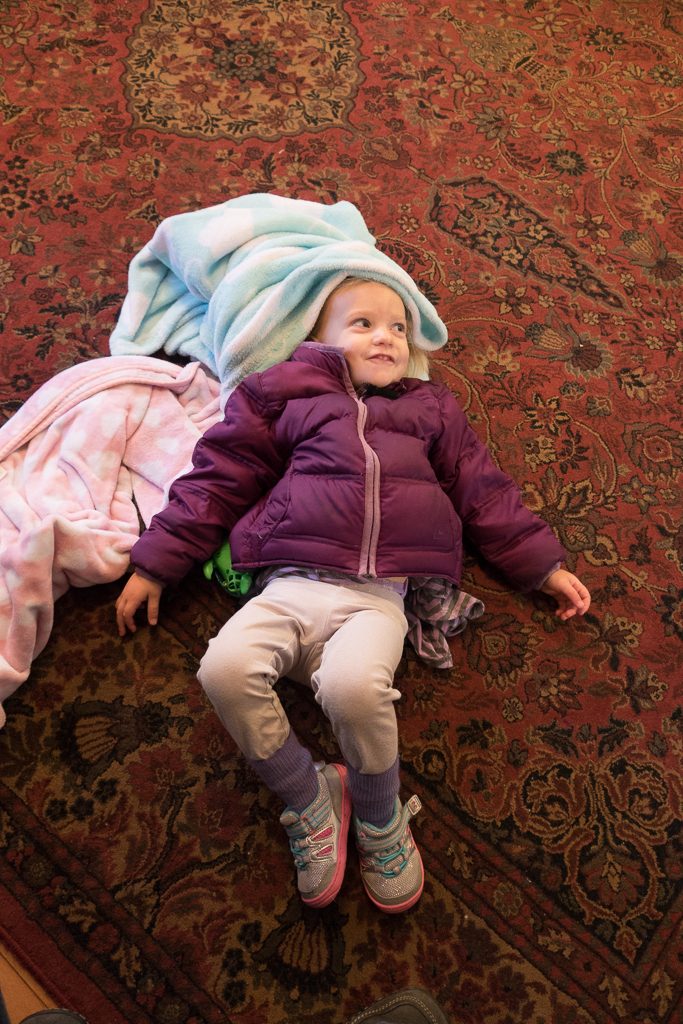 Since we had all 8 grandbabies in one place, and more-or-less dressed in their finest, we tried to take a photo.  It didn't work out quite as well this year as it did for Christmas of 2015…I think our hearts weren't really in it (there were no adults doing the monkey dance behind me, which is usually what it takes…).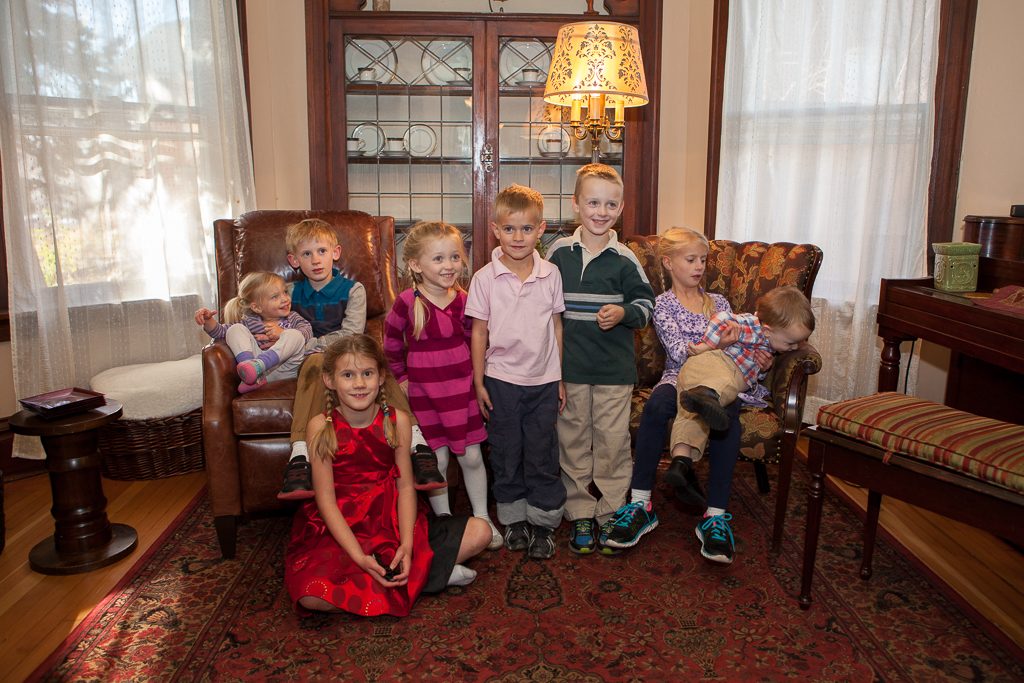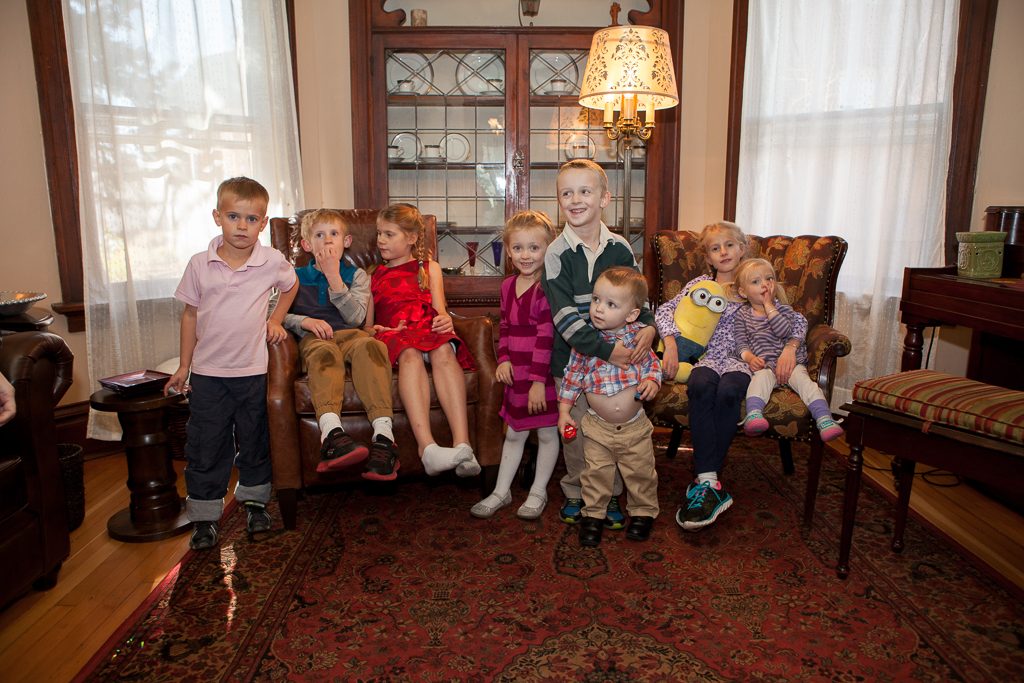 We had lunch, which was amazing (thanks, Ali!).  We had the little kids at the adult table, literally belted in to some tall chairs with my belt and my brother-in-law's belt.  The other 6 kids were at the kids' table, which was totally out of sight from the adults…and they did great.
After lunch, we put the two toddlers down for naps (which actually when shockingly well), and then things were a little more relaxed for a few hours.  I never tire of watching Austin play with my little sister's daughter…my middle child and her middle child are like peas in a pod (more on that, later).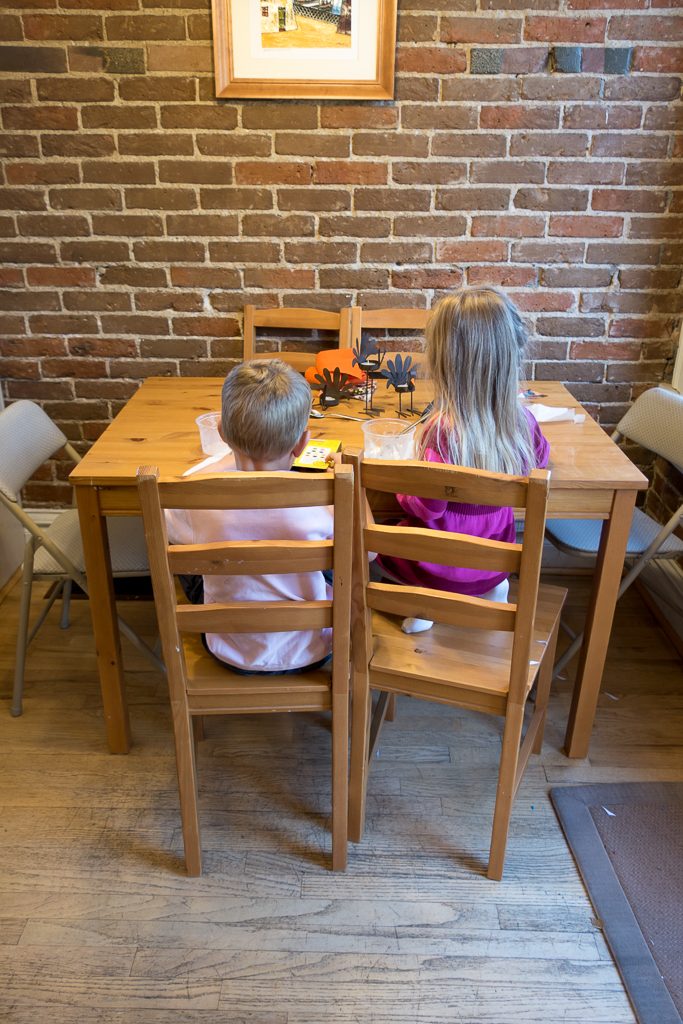 Addison woke up in a good mood.  These next two photos have very little to do with Thanksgiving, and everything to do with Addison being adorable while we were still visiting: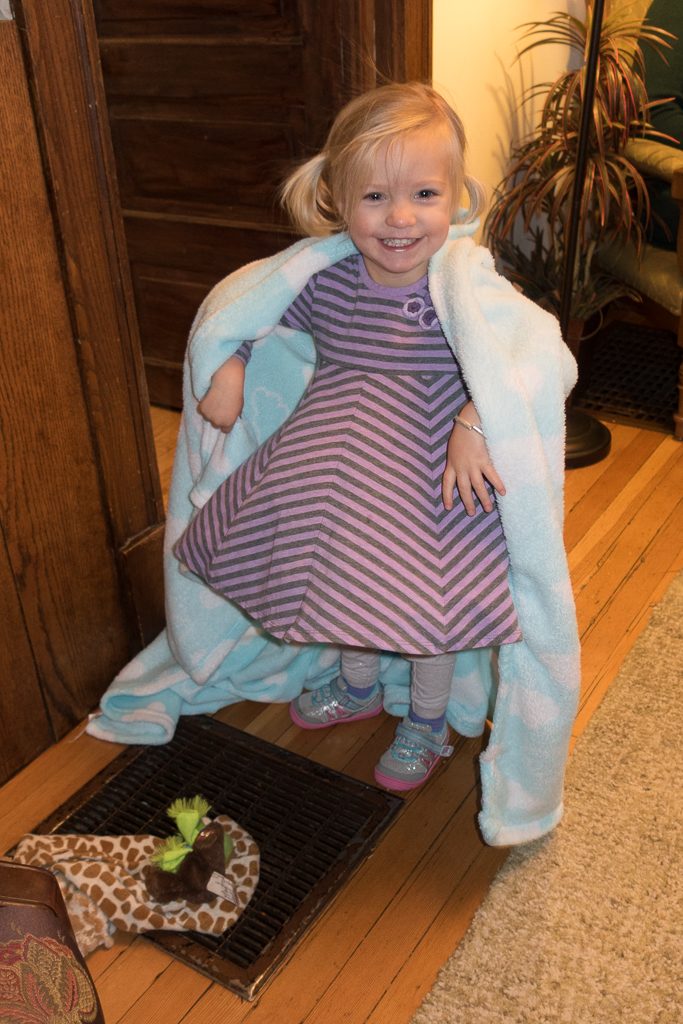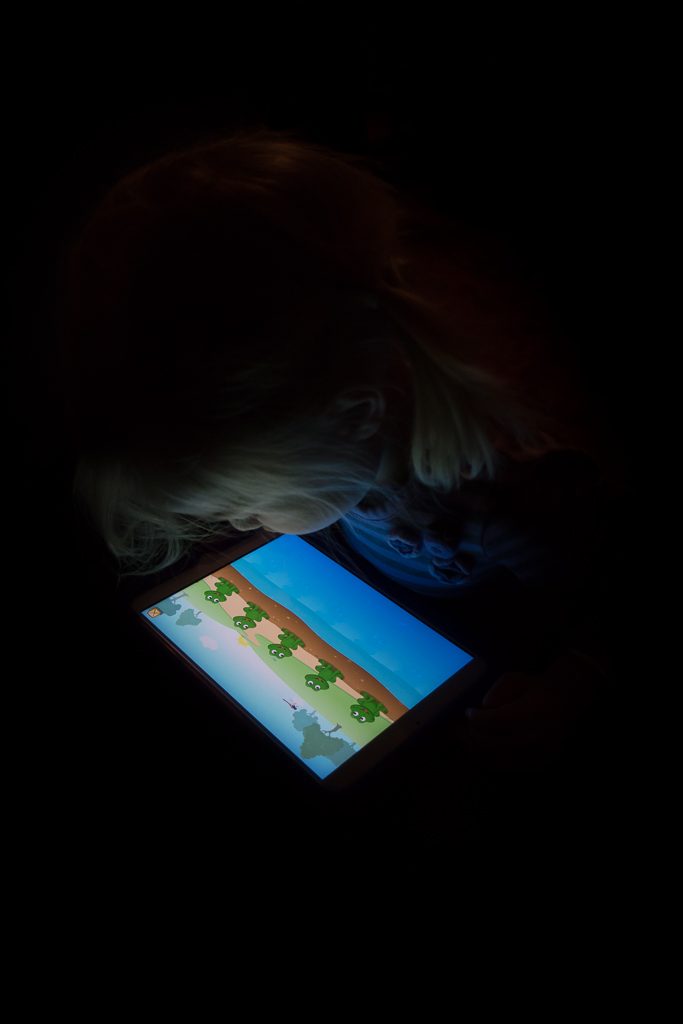 The two big girls spend most of their post-lunch time putting together a "show," which is pretty typical when they get together and will have an audience.  So we gathered upstairs and watched the show, which was short and to the point.  Here's the crowd: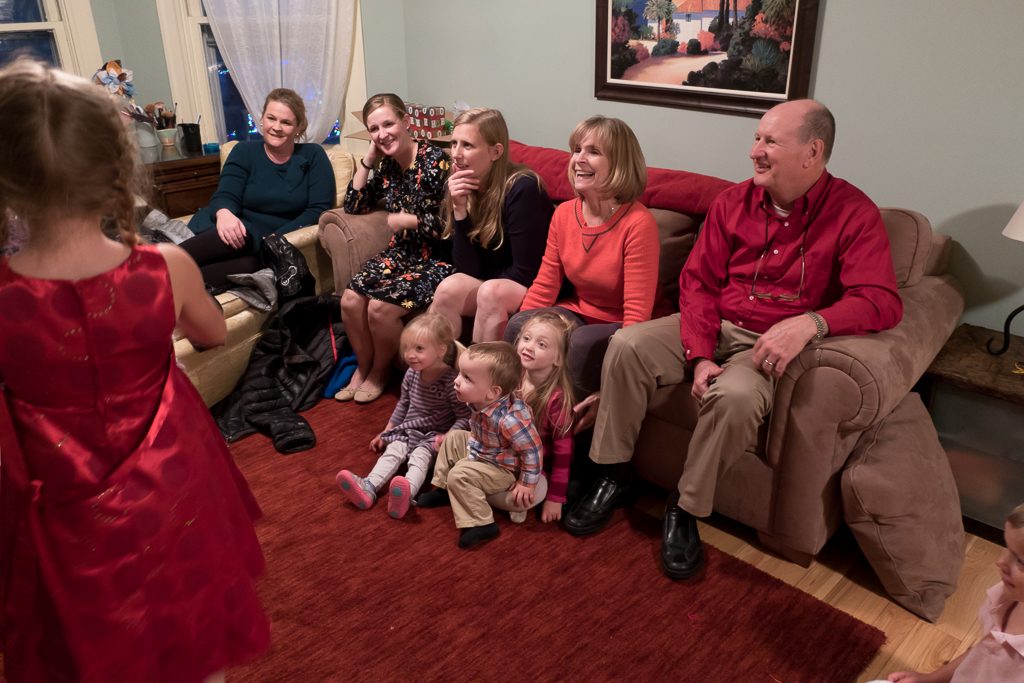 Not too long after that, we headed home.  It was a great Thanksgiving afternoon, and my sister was a gracious host as always.  No one was violently ill on Thanksgiving day, and no one was violently ill afterwards either.  One of my older sister's kids was fighting a bad stomach bug for a few days leading up to Thanksgiving, and her other child seemed to be fighting something mild afterwards.  But, given our history, any gathering that doesn't incapacitate more than about a quarter of us is usually called a victory. mrgreen
So that was Thanksgiving…and now we're exactly 3 weeks away from Christmas.  Yikes!